Download this Medical Record Request Letter and fill in the blanks. This makes it easy for you to request the medical records you need to validate your personal injury claim.
You deserve to be compensated for injuries caused by someone else's negligence. But first, you have to prove you were injured.
Medical records are vital to the success of your injury claim, no matter if you were in a car accident, slip and fall, or any other injury scenario. Gathering your medical bills and records takes time, but can help you get a larger insurance settlement.
Some medical providers will have their own HIPAA-compliant record request form. For all the others, you can use this handy letter. Simply download the PDF, fill in the blanks, print the letter, then sign and mail.
Click on the image below to download the PDF letter with fillable fields: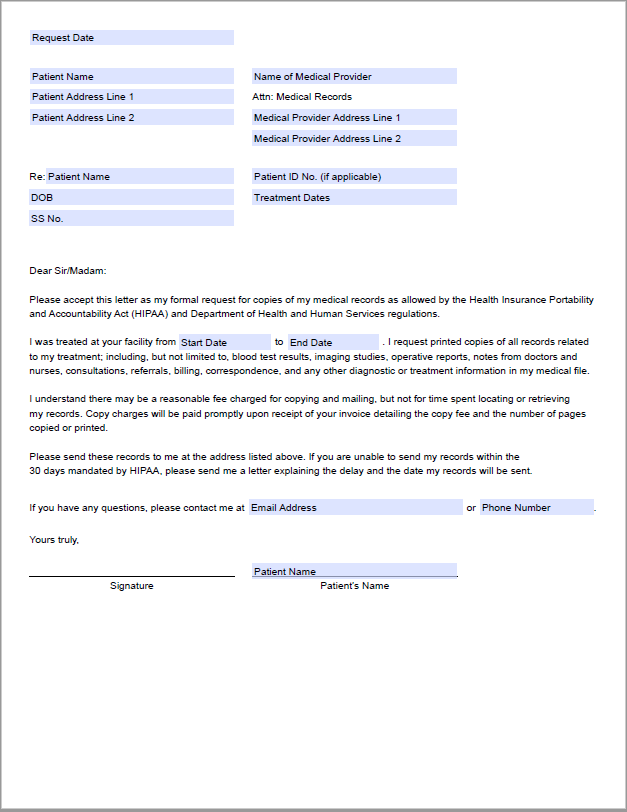 How to Use This Medical Record Request Letter
Click on the letter image to download a copy of the Medical Record Request Letter. Save it to your computer.
Save yourself some typing by filling in the blanks for your own name, address, and contact information, then save that copy with a name like "My Records Request Letter." This way, you won't have to retype your name and contact information for every request you send out.
Going forward, when you need to send a request to a particular doctor or facility, open the "My Records Request Letter" file, fill in the remaining blanks for that medical provider, then re-save the file with a name like "Record Request to Dr. Smith."
Helpful Tips for Requesting Medical Records
Medical records are an absolute requirement for any type of personal injury claim. To be compensated for an injury, first you must prove you were hurt and the scope of your injuries.
It's not enough to send the adjuster a stack of medical bills. Insurance companies only have to pay for "reasonable and necessary" medical expenses. Your medical records, including test reports and doctors' notes, detail the extent of your bodily injuries and explain the need for your treatments.
Your medical records will also help justify your time lost from work. Adjusters are quick to suspect that more than a few days from work is just an excuse to goof off and get the insurance company to pay for it. Doctors' notes clarify that you were out of work for legitimate medical reasons.
Finally, the medical bills are also necessary for calculating the value of your injury claim.
Where to Send Your Medical Records Request
Be sure to get the name, address, and phone number of each of your medical care providers, including the ambulance service that may have arrived at the scene of your injury. Contact each one to find out where to send your request and if the provider has their own medical records request form for patients to use.
Many doctor's offices and hospitals have dedicated medical records departments or use an outside service for managing records requests.
Keeping Track of Your Medical Record Requests
Use a calendar as part of your injury claim file to keep a record of the date and name for all your medical and therapy appointments. It will help you to provide an accurate date range when requesting treatment records from a doctor's office or medical facility.
The calendar will also help verify that you received all the records and bills from each provider.
Download a copy of our Medical Records Request Tracking Sheet so you can see at a glance the requests you've sent and where you might need to follow up. Most providers should respond within a couple of weeks, but if you haven't received your records within 30 days, you'll need to follow up by phone and in writing.
Keep your medical records and bills clean, organized, and in a secure place. Be prepared to make copies for the insurance company. Never send the insurance company the originals or your only copy of anything.
If you decide to consult an attorney about your injury claim, bring your injury claim file and any medical records you've already received to your first meeting.
How Much is Your Injury Claim Worth?
Find out now with a FREE case review from an attorney…